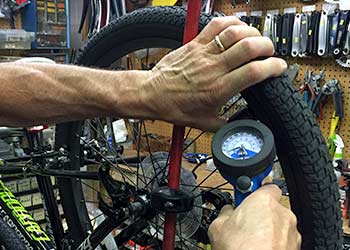 Package Price $250.00 plus parts* Tandem bikes $40.00 extra
Includes above Pro Tune-Up Plus after we do the following:
Completely disassemble the bike to the bare frame, then after cleaning the parts we inspect for worn or broken parts. You will get a call if parts need replacing and you will be advised of the costs and options. The brakes are taken apart and cleaned, the derailleurs are cleaned in our parts washer and the brakes and derailleurs will be lubed and installed on the cleaned and waxed frame. Test ride after. This is the most complete tune-up you will ever get. Due to the amount of time we spend on your bike, we recommend that you do this during the slower winter months.
Allow 10-14 days to complete. By Appointment only.
*HYDRAULIC BRAKES ARE NOT INCLUDED IN ANY OF THE TUNEUP SPECIALS PLEASE CALL FOR PRICING OF BLEED KITS AND DISC PAD PRICING.
Please Note:
1Prices do not include replacement parts.
2Tandem bikes and E Bikes require an additional $20 service fee.
3Winter Off Season packages pricing not valid with any other offer.
4Hydraulic Brakes are serviced and priced separately.
* OFF SEASON WINTER PACKAGE PRICING NOT VALID WITH ANY OTHER OFFER