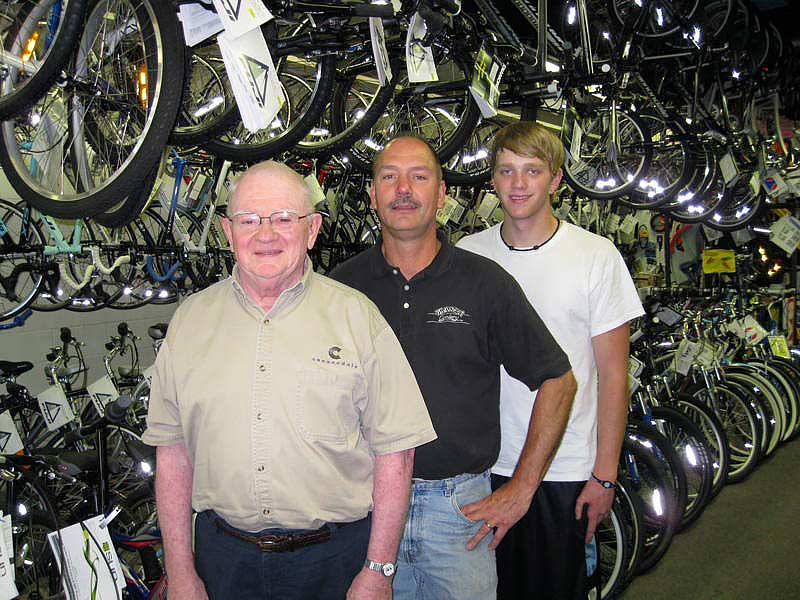 Tom, Doug, and Brice: Three Generations of Jones Boys in 2005. Midwest Cyclery -
Quality Products and Family Service
Midwest Cyclery was opened in 1958 by Al Wenzel, under the name Western Tire. Originally located on Hale Street in Wheaton, the shop moved to West Front Street in 1965. Later, the name changed to Midwest Cyclery Store.
In 1980, Doug, Tom and Helen Jones took ownership, and began doing business as Midwest Cyclery. The store moved to its current location at 117 East Front Street - still in downtown Wheaton - in 1994. Tom passed away in 2021 leaving Doug to run the shop and Helen running the office. Midwest Cyclery is proud to be a part of Historic Downtown Wheaton and prouder still of the store's long tradition of service, reliability and value.
Full Service Store
In addition to selling a wide selection of bikes, trikes, bicycle accessories, and bicycle clothing, we have a professional service department. It's a very busy place, offering tune-ups, fixing flats, and making various repairs for our customers.
AN AWARD WINNING BIKE SHOP
Over the years, Midwest Cyclery has been honored in so many ways... We have received numerous awards and recognition from the Downtown Wheaton Association and The Wheaton Chamber of Commerce, including prestigious awards like the "Pioneer Award," the "Brinkman Award," and the "Ambassador Award."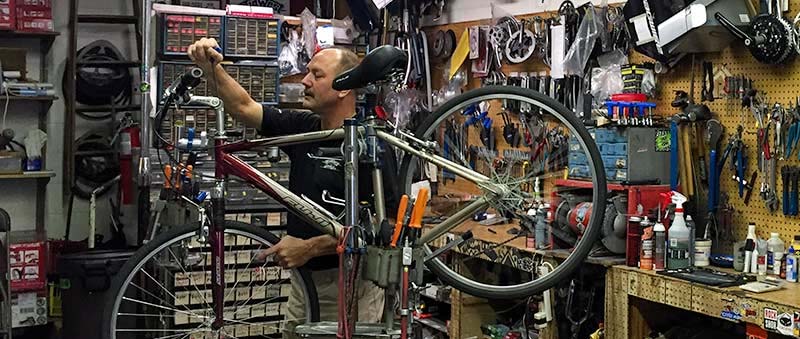 2022 Doug still working on bikes.
In addition, Midwest Cyclery has been recognized many times over the years by readers of the Wheaton Leader, The Daily Herald, and the Glancer Magazine's READERS' CHOICE Award as the Best Bicycle Shop.
Midwest Cyclery has been selected for the Best of Wheaton Award in the Bicycle and Bicycle Parts category by the Wheaton Award Program which each year identifies companies that have achieved exceptional marketing success in their local community and business category.
We are proud to know that we are really accepted by our community! Thanks to all of you for your continued support, and thanks for your business!